Immerse yourself in the enchanting Dar Nour el Houda, a tranquil Riad set in the heart of the city. The Riad is centered around a spacious patio with two 'bhous', traditional lounges, surrounding a cooling pool, a serene escape from the Moroccan sun. This former home of a French painter, adorned with his artworks, offers three elegant rooms and a suite, each boasting tadelakt bathrooms. The minimalist decor highlights the Riad's stunning architecture.
The expansive terrace above offers a peaceful retreat with views of the Koutoubia and Atlas Mountains. After a day in the bustling souks, this is the perfect spot to unwind, offering a serene vantage point amidst the city's vibrant charm.
IN THE HEART OF OLD MEDINA
The Riad is located in the district of Kaat Benahid, one of the oldest parts of the medina. You can access to the Riad by car through the Mokef square. There are several guarded parking lots nearby.
In the immediate surroundings, you will find the mythical Moroccan restaurant Foundouk, as well as the famous Medersa Ben Youssef. The charming Perfume Museum is only 300m away. You can walk through the souks to the Epices square in 10 minutes and continue your exploration, quietly, to the inevitable Jeema Efna Square.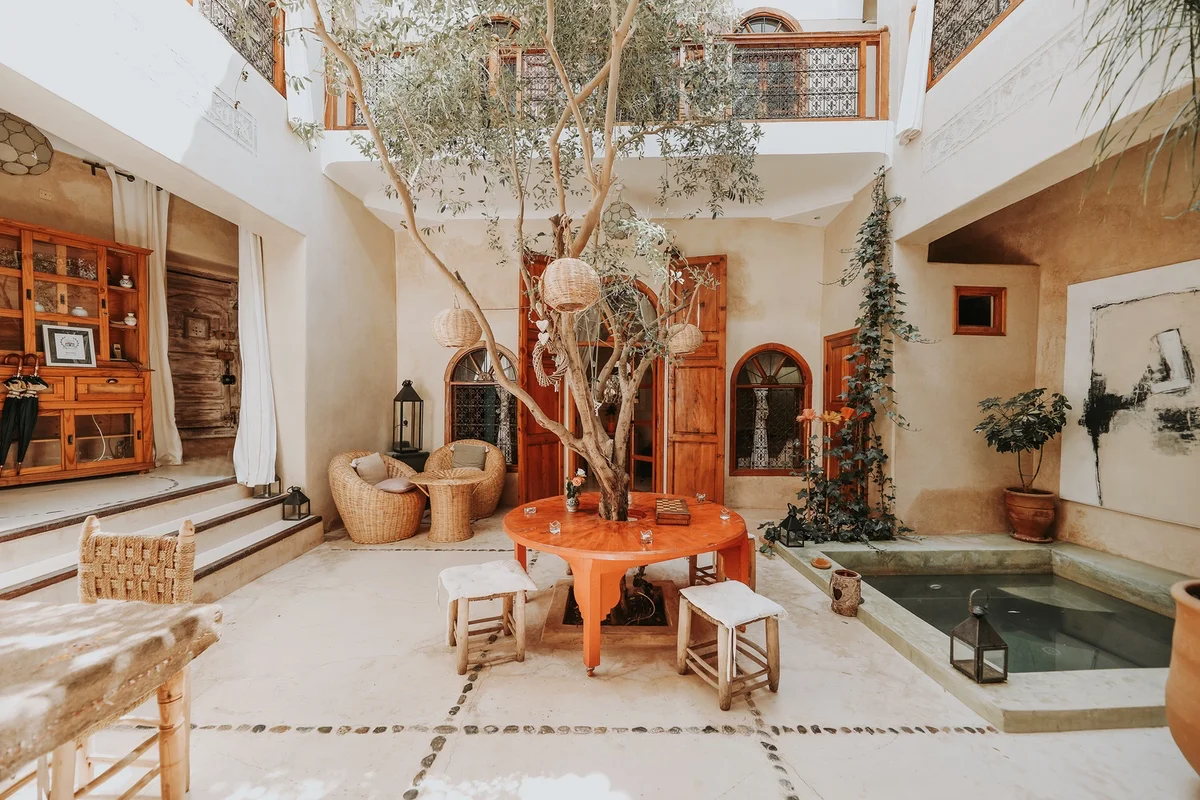 Quiet and bathed in sunlight, it is part of the tradition of Moroccan riads. It is designed so that you can have your breakfast or your meals around it while letting yourself be lulled by the light and the trees which contribute to create an atmosphere of peace and well-being to recharge your batteries.
Our swimming pool contributes to its soft and restful atmosphere.
The Riad has several lounges opening onto the patio. The large living room will offer you a warm atmosphere for your meals in winter, in front of the fireplace and a corner relaxation provided in readings, board games and documentations on Marrakech and Morocco.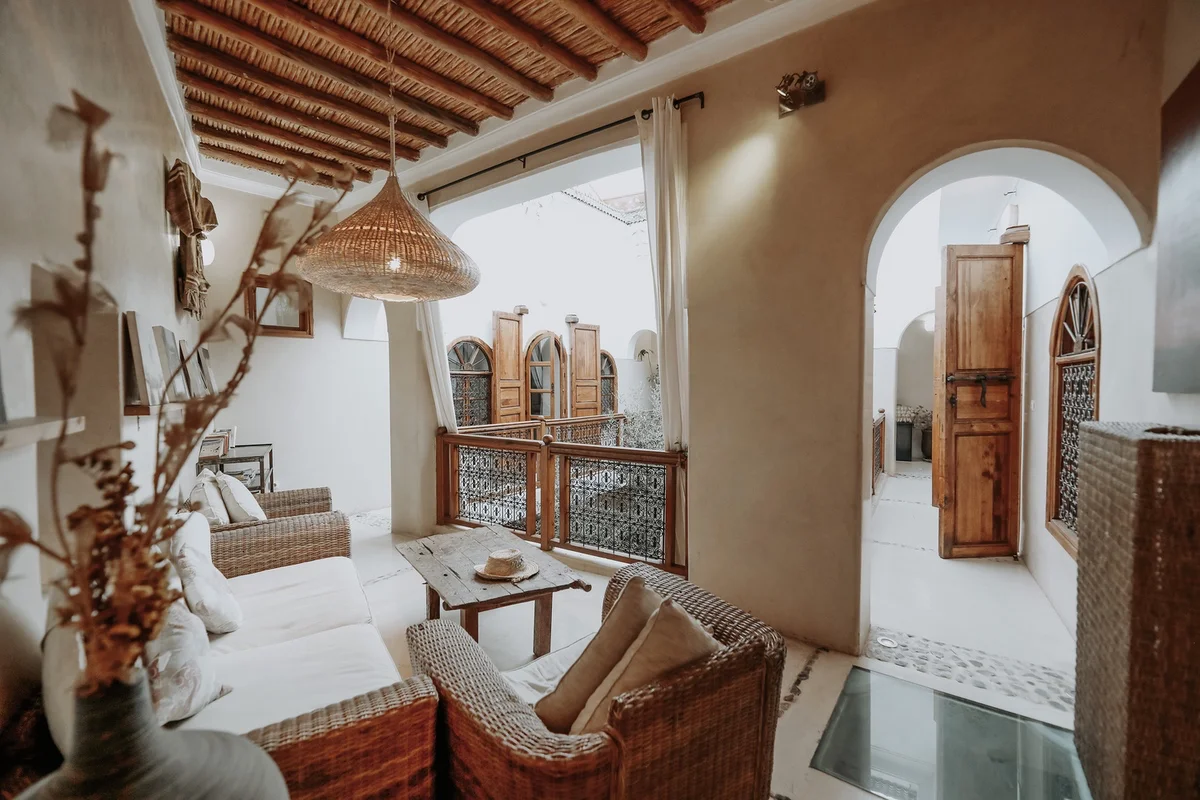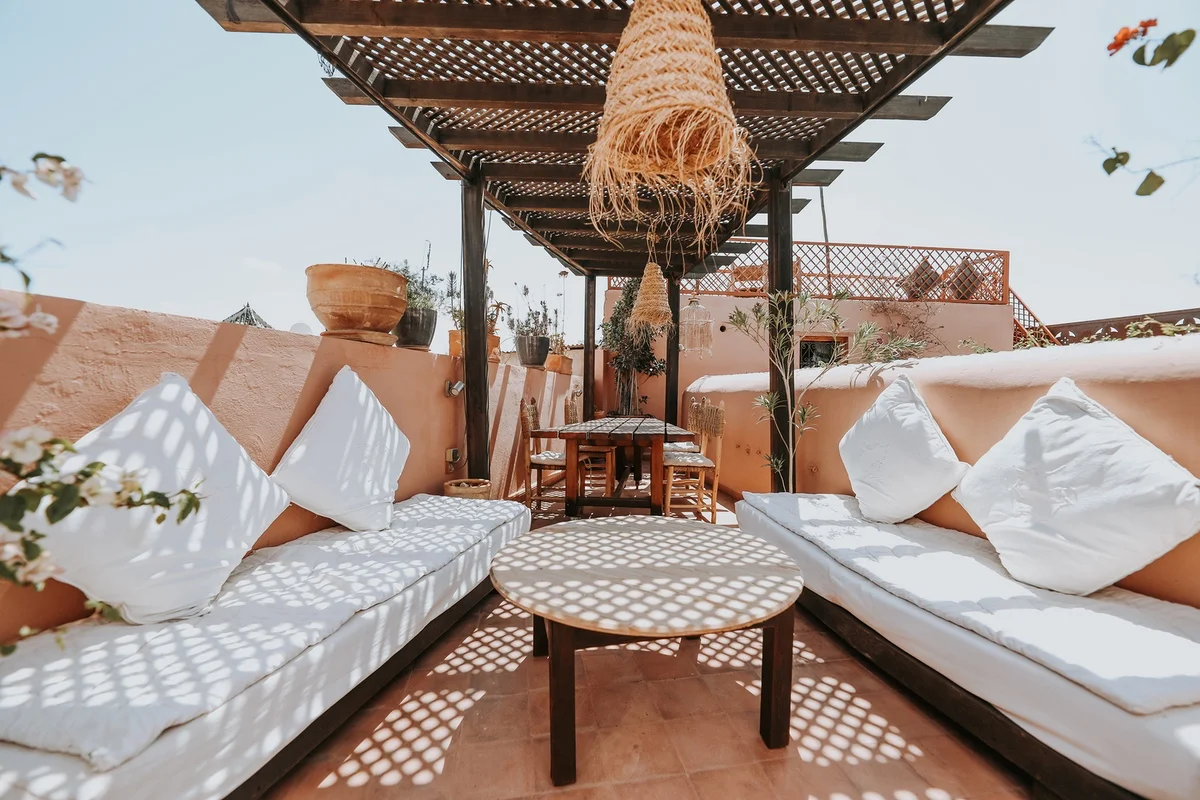 Beautiful and spacious, you will enjoy the sun of Marrakech on the deckchairs. A shower of refreshment is also available
Several shaded lounges under pergolas and a bar will allow you to relax and enjoy freshly made fruit cocktails. A dining area is also set up for your lunches and dinners on the roofs of Marrakech.
EXPLORE OUR
ROOMS & SUITES
Dar Nour el Houda proudly presents a collection of four rooms and suites, each exuding its own distinctive character and style, all with views spanning across the enchanting main patio of the Riad. As you select the room category most aligned with your desires and requirements, prepare yourself to be captivated by the exceptional experience that awaits you in the bewitching city of Marrakesh.
Book your stay with us directly with the best rates available